What's electrospinning?
Electrospinning is a spinning technique from polymer solutions or melts by using the electrostatic force. Electrospun fibers have very thinner diameter (from nanometer to micrometer) than those obtained from conventional spinning processes (melt spinning, solution spinning and so on). It is possible to produce a nonwoven fabric made of very thin fibers (Fig.1). The very thin diameter provides a large surface area to volume ratio and unique characteristics that makes a number of applications, for example, filtration for submicron or nano-materials, separator, tissue scaffolding, drug delivery system, artificial organ and so on.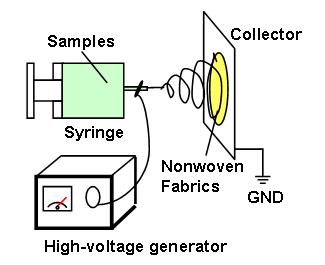 We are studying the both cases of solution electrospinning and melt electrospinning. There are two apparatuses to perform the electrospinning of polymer solutions and melts in our laboratory. Additionally, it is possible to adjust our electrospinning apparatus for any kinds of experimental cases.